Get Trenchless Sewer Repair Mission Viejo by Mission Viejo Plumber Champions

Even the thought of repairing underground sewer or pipelines can be terrifying as it mostly involves tearing up the yard or lawn causing the repair work to continue for days and making it extremely expensive. Luckily for you, Mission Viejo Plumber Champions are here to throw your worries away. With latest technology and equipment in place, we provide trenchless sewer repair mission viejo services, wherein a broken sewer or pipeline is replaced without digging up the whole property. Phone us now! Never an overtime or after hours charge. Never an extra charge for weekends or holidays. Honest & Reliable: We don't sell service that you don't need.
What is Trenchless Sewer Repair Mission Viejo?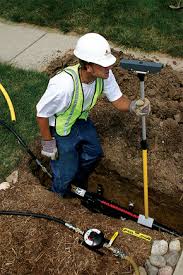 Trenchless sewer line repair primarily means we would not be digging up your yard or pulling your lawn apart. In the process, small access points are dug up wherever the pipelines are laid out, to replace the old pipe with a new one. There are two approaches to trenchless sewer line repair that our expert plumbers follow:
Slip Lining: Also known as Cured In Place Pipe (CIPP), this trenchless slip lining method involves inserting a balloon with an epoxy saturated fabric lining inside the existing sewer line, creating the structural strength of new pipe without any damage to the structure, flooring or landscaping. Most of the times, a single hole is bored at the point of contact for installation. The benefits of using this method are:

Minimum damage to the landscape and normal structure of the property
Saves about 40% of the cost in comparison to traditional repair methods
Lining prevents shrub or tree root invasion and increases flow capacity
Pipe Bursting: In this process, two holes are dug up, one at each end, to access the pipe being replaced. A large cone shaped head is hydraulically pulled through the existing sewer line by a steel cable, crushing the old pipe and simultaneously pulling the seamless High Density Polyethylene (HDPE) pipe inside it. The pipe bursting method has several advantages:

Saves almost half the cost of traditional repair system
Reasonable and less damaging trench work as the repair happens underground
Existing pipes are replaced with high quality HPDE pipelines
Mission Viejo Plumber Champions provides trenchless sewer line repair services that address following plumbing issues:
Larger water line installation in the house for better flow
Underground layout or foundation of piping, specifically under apartment building or landscaped lawns and gardens.
Cracked or broken water pipes due to soil shifting
Pipelines damaged in winters due to intermittent freezing
Incorrect installation of pipes that leads to leaky pipeline or sewer backups
Sewer line clogged due to debris buildup or tree roots leading to bursting
The innumerable advantages of trenchless sewer repair or replacement are:
Efficient and quick repair work taking less than a day
Corrosion and rust resistant pipelines installed
Seamless pipe prevents root intrusion
Around 50 year life expectancy of new pipes
Permanent repairs that meet industry standards
No damage to patio, lawn, landscaping, driveways and expensive flooring
Cost effective as minimum digging is required
For any sewer repair or replacement issue, contact Mission Viejo Plumber Champions. Our experienced and trained technicians shall guide you about the sewer repair method that best suits you and your home's sewer system. Video Camera Sewer Inspection.