Mission Viejo Plumber Champions: We are the Sewer Repair Mission Viejo Specialists You Can Count On
A clogged or cracked sewer line can cause extensive damage to the property and pose a serious health risk to the owner, apart from overly expensive repair charges. Therefore, at the first signs of sewer line damage, such as low water flow of the drain, gurgling sound coming from the toilet, lack of water in the toilet or sewer odor in the basement or other area of your property, contact Mission Viejo Plumber Champions to have the issue taken care of before it worsens. Our trained and experienced staff provides services for fixing cracked, broken or collapsed sewer pipes swiftly and efficiently. All our techs are expertly trained, certified, background checked for sewer repair mission viejo.
Sewer Problems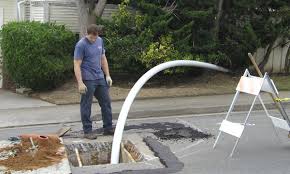 The cracking or clogging of sewer drains occur majorly due to tree roots with thousands of them seeking moisture ending up in the sewer line, however, there are various other reasons for the same such as:
Regular wear and tear of the pipeline due to usage over time
Accumulation of grease, hair, sediments, food particles, oils, etc. in the pipe
Lack of maintenance of the sewer system
Incorrect installation or layout of the sewer line
Shifting of soil underneath the pipe due to earthquake or construction nearby
Backlog from city's sewage system
Different kinds of pipelines bear different damage to the sewer line:
Clay pipes tend to become brittle, cracking up at multiple points, majorly where there is a bend/curve.
Iron pipes are prone to rusting and corrosion, which eventually leads to pipe breakdown.
PVC or plastic pipes can crack down if water temperature surpasses its set limits.

Video Camera Inspection of Sewer Line
Beyond identifying the exact source and location of the problem quickly and efficiently, sewer inspection helps in avoiding unnecessary digging up the whole yard and saves lot of money spent on the same. Video inspection also confirms the structural condition of the lateral pipes in the household. It helps in understanding if an auger or hydro jet will help solve the problem.
Sewer Line Repair
Mission Viejo Plumber Champions provide all kinds of sewer line services – repair, cleaning, replacement or installation. We use two types of sewer repair techniques:
Traditional Repair Method: In this, the whole sewer line is cut open to access the area where the damage has occurred and then the repair work is performed. A backhoe is used to reset the area.
Trenchless Repair Method: This process is faster and environment friendly as it requires only few access points. Trenchless repair uses two approaches:

Pipe Bursting, in which the current sewer line is blown apart, making way for the new, high-density, stronger pipe through it.
Pipe relining involves using fiberglass line which is placed inside the faulty pipe to seal the damage in it.
Depending on the kind of damage that has occurred in your sewer line, our professionals would recommend the repair method best suited for you.
Get a professional help right away for any of your plumbing problems including sewer line repair, by contacting Mission Viejo Plumber Champions. We are just a phone call away!