Trust Mission Viejo Plumber Champions with Video Camera Inspection of Your Sewer Lines
The major crisis in a plumbing situation is to identify the source of the problem. The video camera sewer inspection Mission Viejo service provided by Mission Viejo Plumber Champions provides the sure shot way to identify the problem and fix it immediately, saving the owner a lot of time and money. We are Local to your city. 100% satisfaction guarantee: If you're not happy, we refund your money and you don't pay! We match or beat ANY competitors price and coupons and money saving options, and accept ALL competitors coupons .

How Does the Plumbing Video Camera Work?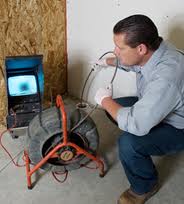 Video cameras have proved to be one of most valuable assets in the plumbing business. A water proof camera, especially made with fiber optic allows video inspection, underground or on surface, of drains and pipes as small as 2 inches and as large as 36 inches in diameter. The high resolution video camera is attached to a flexible rod that allows the camera to traverse through the pipe internally. Real-time video image transmission helps the technician in understanding the condition or problem at hand and the damage occurred inside the pipe or the drain.

Plumbing Video Camera Inspections Will Help Identify Problems Like These:
Broken or cracked pipe which requires repair or replacement.
Blockage in the pipeline due to grease buildup or some foreign object limiting proper flow of water.
Leaking joints between two pipes where the seal has broken or come off, leading to water seepage.
Offset pipe, wherein the pipes or sewer lines have become misaligned due to shifting soil and settling.
Root infiltration, where some part of a plant or tree or the shrub roots have managed to escape inside the sewer lines, hence, preventing normal flow.
Corrosion of pipes due to rusting or deterioration leading to their collapse.
Off grade pipes that have been made with substandard or obsolete material, which might have corroded.
Benefits of Using Sewer Video Camera Inspection in Tackling Plumbing Problems
Saves time: With a video camera, it becomes very easy to locate and isolate the root cause and source of the plumbing problem, thus saving time and increasing efficiency.
Easy on pocket: A plumbing video camera allows the plumber to identify the exact problem so that it can be fixed in the first go, hence saving the money for repetitive visits.
Finding lost valuables: From an expensive piece of jewelry to watches and toys, losing a valuable item down the drain can be really annoying. With our video camera inspection, we can help you track down the missing item.
Inspecting septic systems: Our plumbing video camera inspection also allows you to analyze the condition of your septic system so that you can ascertain when the repair and maintenance is required.
Preventive measures: When purchasing an old home or office building, it is ideally suggestive to check the plumbing system of the property. A video camera inspection will help you in identify the plumbing problems, if any.
Mission Viejo Plumbing Champion's latest video camera inspection equipment is waterproof and of latest technology meant to identify and address your residential or commercial plumbing issues quickly and efficiently. Give us a call to schedule an appointment with one of our licensed plumbers. Pipe Replacement.